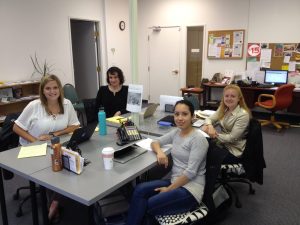 We're excited to have four law clerks with us at NWJP this summer!
Cecilia Anguiano was born and raised in Racine, Wisconsin but is now a rising 2L at Lewis & Clark Law School. She is interested in immigration and employment law, as well as rock climbing, traveling, running, and hiking. She says she's had an amazing experience at NWJP because of the myriad opportunities it presents for client contact. Another law clerk, Aubrey Jones, is a rising 2L at Yale Law School. Aubrey grew up in Portland and is excited to be back in Oregon for the summer. Working at NWJP, she feels lucky to have met a great group of lawyers in the Portland area who are passionate about workers' rights. In her free time, she enjoys running, baking, and practicing Muay Thai kickboxing and Brazilian Jiu Jitsu. Kelsey Peddie, a rising 2L at Lewis & Clark Law School, is from Lake Oswego and chose to clerk at NWJP because she's interested in pursuing a career in employment law. She has enjoyed clerking at NWJP because it's given her opportunities to engage with and work on many different stages of litigation and advocacy work. Her interests include yoga, running, food, and Duck football. Last but not least, Melissa Vollono is a rising 2L student at Willamette University College of Law. Originally from Connecticut, she considers Portland to be her home. She is very excited to be a summer law clerk at NWJP and most enjoys the opportunity to research cases relating to labor law and employment contracts. Her interests include running, reading, politics, and trying new restaurants. We are very grateful to them for their support!
NWJP hosts law clerks year-round, and we love to help mentor law students who are interested in advancing the rights of low-wage, immigrant, and temporary workers. Contact Deputy Director Corinna Spencer-Scheurich at corinna@nwjp.org or 503-525-8454 for more information about how you or someone you know could join us!