Oscar Urrutia owes several state agencies and workers thousands of dollars and has failed to perform the job he promised many clients. And yet keeps working.
NWJP Executive Director Michael Dale and client Selso Sarabia were interviewed for a televised investigation into the shoddy work and wage thievery of Oscar Urrutia, a Portland-area contractor who refuses to pay regulatory fines, penalties, judgments, orders, or his employees' wages.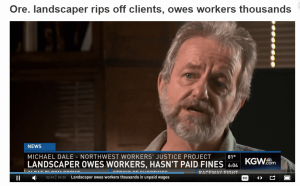 Click on the picture to see the KGW piece.