Patricia Lagun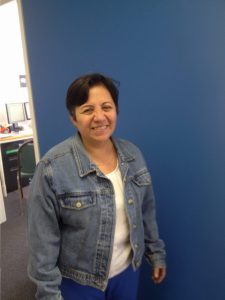 a, our legal assistant, has been on the front lines of NWJP for seven years. As a former client, Patí is uniquely qualified to serve as the primary liaison between NWJP and current and former clients. Patí is a jack of all trades, engaging in duties ranging from conducting initial client interviews, managing communication with the vast majority of clients, and educational outreach to the community.
Patí is a longtime advocate for the rights of working people. She worked as a family service worker and as a parent involvement coordinator at the Oregon Child Development Coalition's Migrant Seasonal Head Start program. In addition, Patí worked with indigenous populations at the Indigenous National Institute in Oaxaca, Mexico. She also served as a producer of educational programming in Mexico City
Patí loves working at NWJP because she is passionate about helping the most vulnerable communities of workers educate themselves about their rights. She is devoted to helping to empower clients to defend their rights. In addition to wanting clients to win their cases, Patí wants to see clients become community leaders and organizers.
In other staff news, we have hired Chris Ferlazzo as Program Administrator
Chris is the newest member of our staff, and comes to us from Portland Jobs with Justice, where he worked as an organizer and fundraiser for 14 years. Before that, he worked in the Central America solidarity movement. Chris is charged with the general administration of the organization, including fundraising, communications, and operations.