On Monday, February 13th, NWJP and the Coalition to Stop Wage Theft headed to Salem to advocate about the problem of wage theft.  About 50 of us spent the day meeting with legislators to offer first-hand stories of wage theft, and explain how our legislative package will help fight this growing problem.  Small groups of workers and allies conducted 35 separate meetings with State Representatives and State Senators!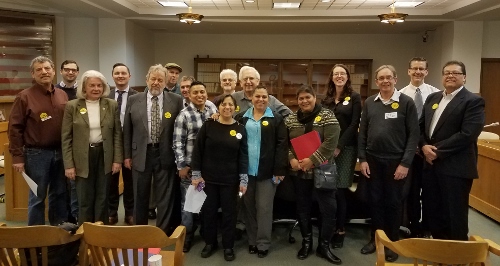 On the same day, the House Committee on Business and Labor held a hearing on three of the bills the Coalition to Stop Wage Theft is working to pass this year.  Workers gave powerful testimony, including a story where a worker was retaliated against for complaining about illegal workplace conditions.  Another worker testified about finally winning a judgment after many years in court, only to find out the employer had transferred all its assets to a different name. We are pleased the bills received a hearing early in the legislative session, but it will take hard work to get them passed. Please sign the Pledge to Stop Wage Theft on our website if you have not already.
The four main bills the Coalition to Stop Wage Theft is fighting for this year are:
HB 2169, which will give low-wage workers more access to the legal system by prohibiting an employer from collecting its attorney fees from a worker,
HB 2180, which will allow a worker to put a notice of legal action on property of an employer, to prevent the employer from selling or transferring property while a case is pending.
HB 2181, which creates a rebuttable presumption of retaliation if a worker makes a wage complaint, and is then fired or otherwise retaliated against within 90 days.  It also gives the worker the right to ask for a written statement of the reasons for discharge, to prevent the employer from changing its reason for discharging the worker.
and,
HB 2856, which creates a fund administered by the Commissioner of Labor to fund community non-profits to help workers with wage claims.
You can find more information on these bills on the Legislative Resources page of our website.