Presenting NWJP's 2016 Tribune of Worker Justice:

~  TRICIA SMITH  ~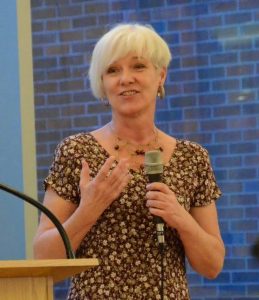 We are delighted to recognize Tricia Smith as Tribune of Worker Justice for her long and relentless advocacy to improve conditions for Oregon's low-wage workers and their families. Tricia has spent her professional life as a champion for working class people, speaking truth to power and giving voice to the silenced.
Tricia grew up in a small, blue-collar town in Northern California, where she learned firsthand the struggles of working class families. She made Salem her home in the 1970s, working in a series of blue-collar jobs and for a decade as a state employee. As a neighborhood activist, she served on the Salem City Council in the late 1980s prior to her recruitment into the legislature.
In 1990, she was elected to the Oregon Senate where she led the effort to create the Oregon Women's Health and Wellness Alliance, a bipartisan policy advocacy group that continues to this day. Working together, the Alliance passed a seminal legislative package to address domestic violence and women's economic issues, which included more successful bills addressing women's issues than had ever been passed in any legislative session in Oregon. During the 1991 session, Tricia also supported measures to provide funding for construction of quality farmworker housing and strengthen regulation of farm labor contractors and on-farm labor housing.
In the 1993 session, Tricia became the Chair of the Senate Labor Committee.  She helped to usher passage of the Oregon Family Leave Act, and fought hard in an ultimately unsuccessful campaign to extend Unemployment Insurance eligibility to farm workers.
In recognition of her efforts, in 1993, the Oregon Commission on Women honored her work with its Oregon Women of Achievement Award for significantly improving the lives of women in Oregon.  She is in good company. This prestigious award has been shared by the likes of Governor Barbara Roberts, Mayor Vera Katz, Justice Betty Roberts, Governor Kate Brown, Senators Avel Gordley and Susan Castillo, and other outstanding Oregon leaders.
From 1996 through 2016, Tricia served Oregon workers as Government Relations Specialist for the Oregon School Employees Association (OSEA), fighting for the interests of Oregon's school bus drivers, custodians, maintenance workers, and other classified employees who help care for our children at school. Through OSEA's political program, Tricia was at the center of successful campaigns to raise the Oregon minimum wage. She won and defended policies to guarantee student transportation so that all working families had a way to get their children to school. Year after year, she has fought on the frontlines of the constant, bitter struggle to defend collective bargaining, especially for OSEA's working class membership. First on the list of cuts in tight times, these workers could rely on Tricia to battle for resources and combat out-sourcing that fails to honor the value these proud workers bring to a school. Tricia has fiercely insisted that decision-makers consider that value.
As a legislator and lobbyist, Tricia has always been a valuable source of wisdom and support to advocates for low-wage workers, both of which she shared generously. When NWJP was formed in 2002, Tricia Smith was one of three founders—along with Larry Kleinman and Michael Dale—listed in its Articles of Incorporation, and she has served as a thoughtful board member and passionate champion of NWJP ever since.  A dependable ally in our legislative campaigns, teaching a succession of NWJP lobbyists the ropes, and helping to draw together the Oregon Coalition to Stop Wage Theft, Tricia has been a truly indispensable part of our legislative efforts for more than a decade.
[pullquote align="full" cite="" link="" color="" class="" size=""] Thank you, Tricia, for your many years of service to working families, for your stalwart leadership of the Northwest Workers' Justice Project, and for making our state a better place to live for all of us.   [/pullquote]