This month NWJP helped three construction workers who worked dry walling apartments near Portland State University settle their federal case with the general contractor and a subcontractor. The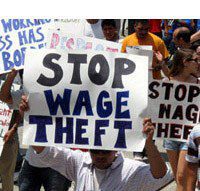 case was brought to NWJP by the International Union of Painters and Allied Trades organizers who identified the wage theft going on at a non-union worksite.
The three experienced dry wallers worked for a labor contractor named Jose Gonzalez who stopped paying them and disappeared. The workers were encouraged to keep working by the general contractor, but were never paid. NWJP helped them file a lawsuit alleging that the general and the drywall subcontractor that hired Gonzalez were joint employers and responsible for their unpaid wages. After successfully defeating a motion to dismiss, the workers were able to resolve their claims with the general and drywall subcontractor, even though Gonzalez was never found.
"It is all too common that some general contractors and subcontractors in the construction industry seek to evade employer liability with a growing chain of subcontracts," said Corinna Spencer-Scheurich, Deputy Director of NWJP. "As the Portland economy heats up, I hope this case reminds contractors that they need to be responsible for the workers on their projects and make sure that they are being paid correctly."
In addition to regular litigation on behalf of construction industry workers, NWJP also works to protect workers through policy advocacy. In 2013, NWJP led the Coalition to Stop Wage Theft in winning protections in the construction industry that went into effect in July of 2015. The protections require construction labor brokers (those whose only job is to supply workers) to obtain a license and to post a bond. Contractors who hire labor brokers without licenses are jointly liable for the brokers' failure to pay wages and other disclosure requirements under the law. This law will help future workers like these dry wallers from disappearing labor brokers and help them more quickly hold generals and subcontractors responsible when they hire contractors without licenses.