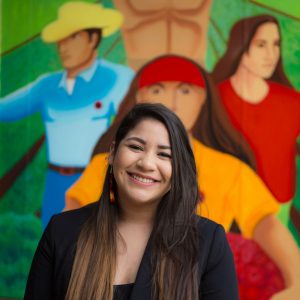 Laura will be helping us launch the Immigration Client Support Project as a paralegal.
She is a recent graduate from Oregon State University where she studied Political Science and Women/Gender/Sexuality Studies. Previously, Laura was the leadership development coordinator at the Oregon Latino Health Coalition where she created and managed a leadership program called Latinx Leadership Movement (LLM). LLM develops Latinx leaders across Oregon to self-advocate for more inclusive policies at the local, state, and national levels. Laura was also part of the advocacy team that led and passed the Cover All Kids legislation.
As a former field organizer for Acción Politica PCUNista (APP), Laura was part of the team that successfully helped Teresa Alonso Leon become the first Mexican indigenous immigrant State Representative in the State of Oregon, "Laura brings a new and awesome leadership ability to the worker rights movement." -Ramon Ramirez, President of PCUN.
At NWJP, Laura will help inform the community about their workplace rights and our services, while strengthening our ability to address our clients' immigration needs and threats. (Many thanks to Meyer Memorial Trust and the Collins Foundation for making this possible.) ICE continues to target the Latinx community including low-wage and immigrant workers, NWJP's primary client base. Our clients are feeling threatened to come forward to report wage violations and discrimination particularly since it would mean having to go to court. ICE has been arresting immigrants in and around the courts. By supporting our client's immigration needs and creating plans of action against ICE, we will help alleviate some of the fear in the community, as well as serve a warning to employers attempting to exploit immigrant workers.