NWJP could not function without our fabulous volunteers and law clerks, and this summer, we are pleased to have support from some great people.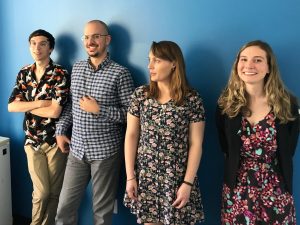 Sophie von Bergen is from Portland, and just finished her first year at Lewis and Clark Law School. Sophie is interested in using law as a tool for social change after studying the theory of rebellious lawyering at Occidental College. In addition to political science, she studied gender policies and once presented a paper co-authored with her professor at a conference in Sweden.
Volunteer Isaac Suarez-Nugent graduated from Reed in 2016, with a degree in history, and a focus on French and British empire. Isaac was born in Sinaloa, Mexico, and his dad is still there. Isaac thinks that undocumented workers are a really exposed part of the labor economy, and he wants to get some experience in a legal setting to further understand the effects of the Trump administration.
Jessica Luning has been pretty busy lately, as she is currently the coordinator of NLG legal observers, who have been at the ICE occupation 24/7 for the last week. Originally from Long Island, Jessica just finished her first year at Lewis and Clark. Jessica decided on law school after working in non-profits where "as soon as work started to get interesting I had to hand it off to a lawyer."
Clint Flippin is also at Lewis and Clark law school, but is originally from Memphis.  interested in history, traditional archery, and workers' rights, after having experienced many abusive employment situations.  Now he wants to change that and wants to practice in a field of law that can have practical implications.  He started out interested in environmental law, but recognized that the federal government has stopped enforcement. "Now," Clint argues, "the biggest changes will come from an employment law perspective."
NWJP hosts law clerks year-round, and we love to help mentor law students who are interested in advancing the rights of low-wage, immigrant, and temporary workers. Contact Deputy Director Corinna Spencer-Scheurich at corinna@nwjp.org for more information about how you or someone you know could join us!