Starting July 1st, the Property Service Worker Protection Act of 2017 (HB 3279), a law that NWJP and Service Employees International Union (SEIU) Local 49 worked to get passed to protect janitorial workers, will go into effect. Janitorial contractors will now be required to have a license from the Bureau of Labor and Industry (BOLI) and a bond that employees can use to recover unpaid wages. If building owners/operators contract with unlicensed janitorial contractors, the owners/operators could be held responsible for a janitorial employee's unpaid wages or for other violations of the law. The goal is to prevent under-resourced and fly-by-night janitorial companies from leaving employees without any recourse for labor violations--either the employer will have a bond or the end user of the janitorial services will be responsible too.
As an expansion of the law that has successfully helped regulate farm labor contractors for decades, the law also includes new provisions that require janitorial contractors to provide training on sexual harassment. Because of the nature of janitorial work, done often at night or in isolated spaces, sexual harassment and abuse on the job are endemic. Therefore, the law works to educate and provide resources for workers' physical safety as well.
On June 15th, members of SEIU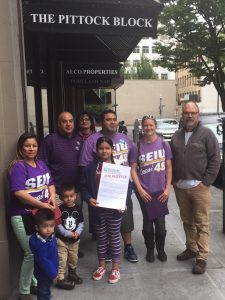 Local 49 took to downtown Portland to notify building owners and managers of the new law and their potential liability for unlicensed contractors on Justice for Janitors Day, a day that recognizes janitors' historical and ongoing struggles for fair wages and safe working conditions.
SEIU Local 49 also released a report on how the law could clean up the janitorial industry. The report chronicles the type of labor violations that NWJP regularly sees in the industry. NWJP regularly represents workers in cases of misclassification and "franchise" schemes, unpaid wages, health and safety violations, and sex discrimination.