I am a staff attorney at NWJP, and I want to tell you about a victory for my clients, José Manuel and Lorenzo, and why the work of NWJP is so important to me.
José Manuel and Lorenzo worked in reforestation in Southern Oregon. I was able to help them settle an important case, for them and for thousands of other forestry workers.  José Manuel and Lorenzo's case was won, in part, on a legal ruling that  means that Oregon's forestry workers   are entitled to about a half million extra hours of pay for the time they must spend traveling on dangerous mountain roads to reach the remote sites where they work.
José Manuel and Lorenzo are migrant workers–like most reforestation workers in Oregon. There are lots of reasons why I care about supporting migrant workers in winning workplace justice, but the biggest reason is that my father was a migrant farmworker for many years. I understand the sacrifice, as I didn't get to be with my dad for most of the year until I was 5 years old. Migrant workers are extremely vulnerable to human rights violations and frequently face exploitation and discrimination in their workplaces. These workers, like so many others, are working hard to take care of their families back home. They are sacrificing time with their families, sacrificing their bodies, to take care of their families. 
In addition to having a deep understanding of what these workers are dealing with, I think my background helps my clients have more trust in me. They appreciate having an advocate who better understands their story and what they have to go through; it allows me to develop a strong connection with my migrant clients.
In this case, the issue was whether reforestation workers should get paid for travel time going to and from the remote work sites where this work must be carried out. José Manuel and Lorenzo's  experiences in this case were typical for reforestation workers in the Pacific Northwest. They would spend long hours driving to remote towns each week where they would stay in temporary lodging. Then, daily, they would travel long distances to isolated worksites to plant or harvest trees. 
The U.S. District Court held that, under Oregon state law, this kind of travel time for forestry workers in Oregon must be paid. The impact for Oregon workers is potentially substantial as employers, instead of low-wage workers, now must bear the burden of travel to remote jobs.
In the end, we were able to help José Manuel and Lorenzo win substantial settlements. José Manuel said, "I am happy because at the end of such a long time, justice was served in our case. It affected me and my brother a lot. We felt that several doors were closed, but at last we have our reward."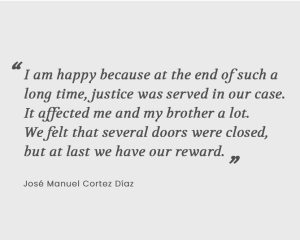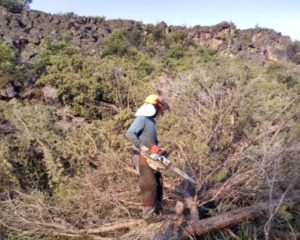 The reason that I do this work is for these moments when workers, who are sacrificing so much for their families, feel like they have experienced justice. Even when things may have been stacked against them, José Manual and Lorenzo have prevailed for themselves and helped up to 6,500 other forestry workers in the process
This is the kind of "lived justice' we at NWJP are working for.