Every quarter, NWJP hosts several law students and other volunteers who are committed to developing their knowledge and skills, and protecting workers' rights. This past Spring, we were lucky to host 4 such students: Ludmila Puchulu Mocchiutti, Cassie Blake, Richard Champion, and Aliza Saunders
Ludmila Puchulu Mocchiutti is a Bennington College student majoring in political science and economics. Originally from Argentina, Ludmila is planning to go to law school and is interested in migration, and Latino community rights. She says that she "loved working at NWJP -  good people, very supportive." Ludmila helped with intakes, follow up with clients, and case support. Her other interests include skiing, photography, and dance.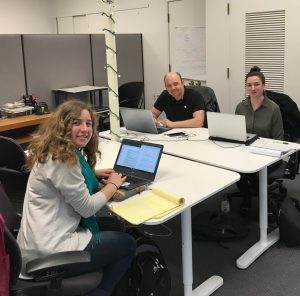 Cassie Blake is a third-year law student at Lewis & Clark Law School.  Cassie grew up in Lansing, Michigan, and received a Bachelor of Science in Political Science from Portland State University.  During law school, Cassie focused on international human rights law, with a focus on populations in conflict.  She spent her two summers during law school working on human rights issues in Europe.  After graduation, Cassie plans to sit for the Oregon State Bar and hopes to pursue a career in the non-profit sector working in human rights, civil rights, and victim rights.
Richard Champion is a recent graduate of the University of Iowa College of Law in Iowa City, Iowa where he had a full-tuition Law Opportunity Scholarship. Richard, a native of Kelso, Washington, focused on Intellectual Property and Labor Law. As an undergrad, Richard earned a Bachelor of Science degree in Chemistry at Eastern Oregon University in La Grande, Oregon. After his undergraduate education, Richard worked at Pacific Northwest National Laboratories (PNNL) in Richland, Washington as a Chemical Research Fellow. For his graduate education, Richard earned a Master of Science in Chemical Engineering and a dual-PhD in Chemical Engineering and Nanotechnology, both at the University of Washington-Seattle campus. Prior to law school, Richard worked on the SeaTac $15 minimum wage initiative - the first $15 minimum wage law in the country and during law school he worked on the Bernie Sanders for President campaign.
Aliza Saunders is a participant in Tivnu: Building Justice, a Jewish social justice gap year program based in Portland. Through this program, she interns at NWJP, Street Roots, and Agape Village. Next year, Aliza will be attending Cornell University to study Design and Environmental Analysis. While Aliza has not yet decided if she wants to pursue law, she is thankful to have been able to work at NWJP on both the No on 105 Campaign and learning the ins-and-outs of nonprofit law firms.
Thanks to Ludmila, Cassie, Richard, and Aliza!