While we usually focus on local news in our updates, these two victories for farmworkers in Washington and California are highly significant.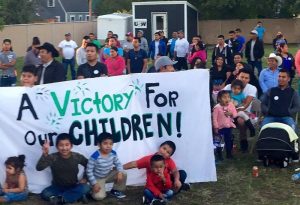 In Washington, three years of organizing have led to a historic victory for workers at Sakuma Brothers Farms. The campaign included a boycott of Driscoll's berries and several actions in the Portland area. Last week, workers voted overwhelmingly (192-55) to join a union, and are demanding a contract guaranteeing a $15 minimum wage and sick leave.
Meanwhile, in California, farmworkers are finally on track to receive the same overtime pay that workers in other industries receive: time and a half for more than eight hours in a day or 40 hours in a week. Farmworkers are still unfairly excluded from most of the rights enshrined by the FLSA, but this bill signed into law last week represents a major victory.
Read more here: http://www.sacbee.com/news/politics-government/capitol-alert/article101400142.html