As we wrap our 15th year of providing legal support for marginalized workers, we are sharing a few stories from some of the organizations we have partnered with over the years.
Our second story comes from Luis Brennan of the Burgerville Workers Union:
It's hard to hold a job at Burgerville. You work long hours on your feet, and you end up smelling like french fries and burgers. On top of that, you're still having difficulty making rent and your housing is always insecure because of the low pay.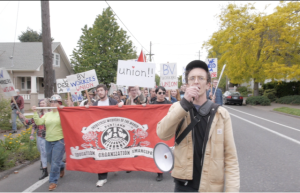 I and a number of people from the IWW wound up getting jobs at Burgerville and began to build an organization with co-workers around a vision not just to change policies, but to create an organization to hold Burgerville accountable and serve as a voice for us as workers.
We got connected to NWJP and they offered to support us with legal resources for free.  It's really been a game-changer. Because of their support, we've been able to have deeper strategy and have more nuanced focus about what we're doing. We've been able to avoid pitfalls and feel more confident that we're going to win. We've done this exciting thing of winning two National Labor Relations Board certification elections, the only fast food union in the country who's done that, and we could not have succeeded without NWJP's help. No one in the campaign had any election experience or knew how to work the election process. And NWJP was there every step of the way supporting us to do this and to win the elections. Another exciting election is around the corner.  Without NWJP's help, I'm sure it wouldn't have happened.  We are infinitely grateful for all they've done for us.
I hope you can support this important organization.
In solidarity,
Luis Brennan
Burgerville Workers Union
Workers who are trying to organize need access to good legal help. Larger unions can provide this, but many workers are left out. NWJP believes that true change for workers will only come through organizing so one of our strategies is to support workers and their organizations as they work to develop a voice in their workplace.
Because of the support we get from people like you, we have been able not only to work with Luis and his coworkers during their organizing and election, but we are currently assisting them at the bargaining table. The Burgerville Workers Union's election made national history—and so will their first good union contract. Our hope is that it will be a model for the rest of the fast food industry.
You can help make sure that we are there to support more workers like Luis!
As NWJP celebrates its 15th anniversary, we are asking you to join us as we commit to another 15 years of solidarity. Can you pledge to donate $15 a month to support our ongoing work? If a monthly donation does not work for you, please consider a one-time gift.
Thank you!
Sincerely,
D. Michael Dale
P.S. NWJP is a non-profit that receives no funding from the government, and depends on the strong support of champions for justice like you in order to stand with workers like those at Portland Specialty baking. You can help by donating online to the NEED Fund to support NWJP's work at www.nwjp.org/get-involved
---
If you would like to make a non-tax-deductible gift directly to NWJP, please send a check made out to "NWJP" to 812 SW Washington, Ste. 225, Portland, OR 97205. Tax-deductible donations to support our work can be made to our 501(c)(3) partner, NEED Fund.